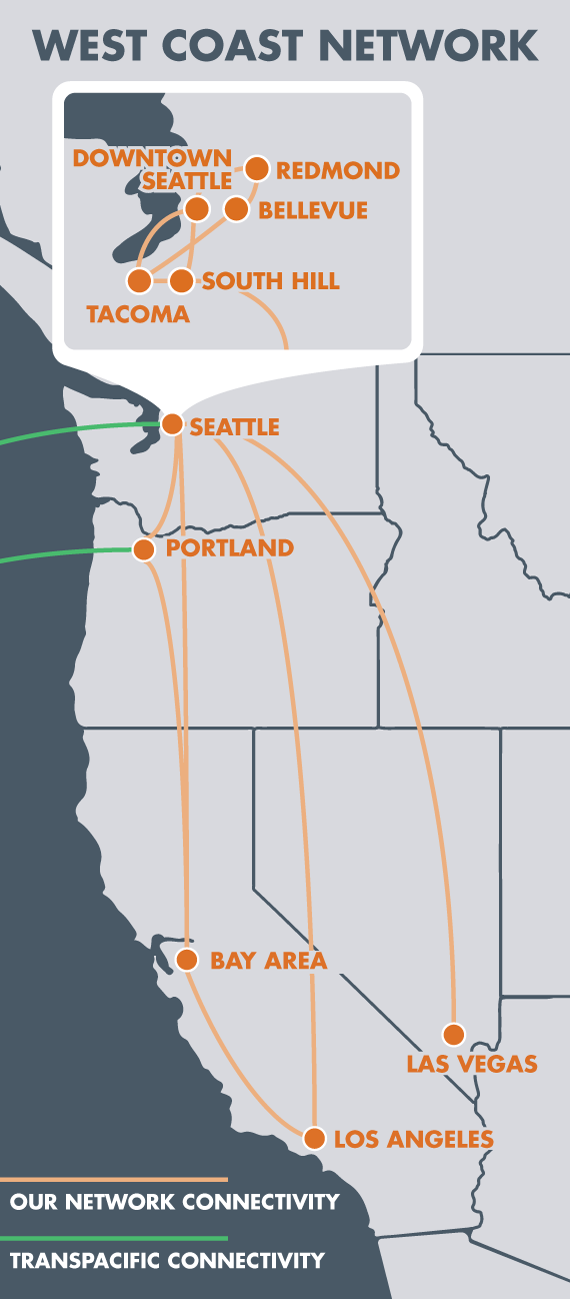 Colocation Northwest connects the greater Seattle region and Tacoma with the world.
Our connectivity network includes three carrier hotels, points of presence in multiple West Coast cities and multiple Tier 1 and Tier 2 carriers that reside inside our Seattle and Tacoma data centers. Colocation Northwest helps businesses achieve a diverse range of connectivity goals.
Our data centers are either located inside the Westin Building Exchange or connect to the Westin via 180 Gbps dark fiber. The Westin building is the Pacific Northwest's regional carrier hotel, one of the most connected buildings in the United States.
Our network extends to the Pittock Internet Exchange in Portland, Oregon, providing links to Hillsboro transpacific cable landings, and to the One Wilshire carrier hotel in Los Angeles. We also maintain points of presence along the U.S. West Coast.
Colocation Northwest's connectivity options feature diverse entry points and regional paths. Should an unplanned carrier disruption or severed communications path occur, your operations will reroute and remain intact.
There are many compelling reasons to consider Colocation Northwest data centers:
Low-latency, high throughput access to Asia, Canada, Europe and the Americas.
Place servers and hardware close to your technology partners in the Pacific Northwest.
Take advantage of Washington State's green, low cost power.
Backup your data in one of the West Coast's safest, disaster-resistant recovery centers.
Interconnect with cloud providers, service vendors, and business or network partners. Create cross connects inside our data centers or use Colocation Northwest's connectivity to establish points of presence and cross connects in facilities throughout the world.
Carrier Hotels and Transpacific Landings
Our data centers are either located inside the Westin Building Exchange or connect to this carrier hotel via dark fiber. From here our data centers link to two additional carrier hotels, the Pittock Block Building in Portland and One Wilshire in Los Angeles. Take advantage of meet-me room access with over 250 network service providers, carriers or ISPs.
The Westin Building Exchange is a transpacific cable landing access point. The Pittock Block Building offers interconnectivity with cable landings in Hillsboro. Enjoy low-latency access to Asia, Canada, Europe and the Americas.
Dark Fiber
Colocation Northwest maintains a dark fiber loop circling Lake Washington. Our Downtown Seattle, Tacoma, Bellevue and Redmond data centers all connect. It delivers fast, reliable and redundant connectivity. Should any point become severed, data will continue to flow without interruption in the opposite direction. Data centers connected to this loop may access our entire connectivity network, including carrier hotels, transpacific cable landings, South Hill and our West Coast points of presence.
The South Hill data center connects to the Westin Building Exchange via dark fiber, and to the Pittock Block Building using lit fiber. Like the data centers on our dark fiber loop, South Hill receives the same access to carrier hotels, cable landings and West Coast PoPs. As a Tier 3 data center, South Hill's combination of connectivity and electrical power access makes it especially useful for large enterprise deployments.
West Coast Points of Presence
Colocation Northwest owns fiber endpoints along the U.S. West Coast:
Seattle, Washington
Portland Oregon
Los Angeles, California
Freemont, California
Sea Ranch, California
Las Vegas, Nevada
Connect from the Seattle region to your partners and operations in other cities. Or take advantage of Washington State's low-cost energy and run your mission critical operations inside our South Hill data center, one of the most disaster-resistant data centers on the western seaboard.